Sept. 25, 2023
Are you stuck in the past with 1920s wooden pallets while the climate crisis looms? Learn how KraftPal's corrugated cardboard pallets are a game-changer, reducing your pallet costs and CO2 emissions by an incredible 80% per pallet! Step into the future of material handling with our eco-friendly, cost-effective solutions. Read more below.
As we reflect on the astounding 100 years of #innovation in material handling and #logistics, there's one piece of the puzzle that seemingly missed the revolution: the basic wooden pallet. This unassuming tool has remained virtually unchanged since the 1920s, clinging to its heavy, unhygienic (if not treated properly), and environmentally damaging form. But now, a new chapter is beginning. The future arrives on a KraftPal corrugated cardboard pallet.
The Problem With Wooden Pallets
Today's wooden pallets suffer from several significant flaws. They're as heavy as environmentally unsustainable, and challenging to recycle as they were a century ago. Furthermore, they can cause more environmental damage than ever. Shanon Osaka from Washington Post stated that the world is grappling with a multitude of challenges, including July 2023 being the hottest month ever recorded—a record that is unlikely to stand for long.
Projected global demand for common wooden pallet is expected to reach 5.8 billion units in 2024 (Fredonia Group).
Global wood pallet demand is going to reach 5.8 billion wooden pallets in 2024 (Freedonia group 2020), and over a third of these are destined for one-way use. After serving their brief purpose, they often end up in landfills or as debris polluting the land.
The environmental toll is further compounded by the fact that hundreds of millions of trees are harvested annually to make these pallets, trees that could otherwise be removing billions of tons of CO2 from the atmosphere.
KraftPal As a Solution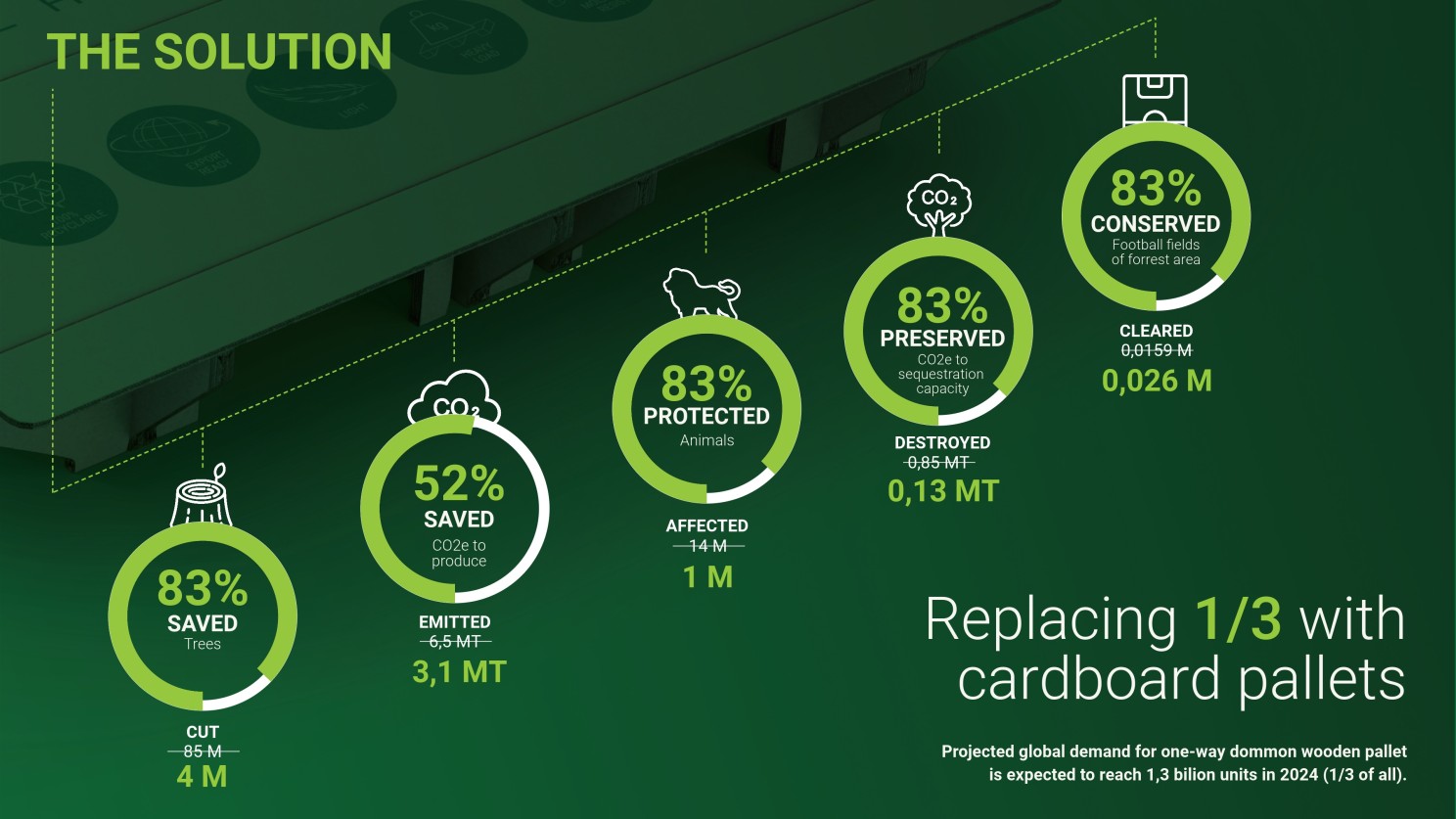 What would the impact be if we substituted 1.3 billion single-use wooden pallets with KraftPal pallets?
Don't misunderstand our stance; wooden pallets are effective for closed-loop systems and multiple-use applications. However, when it comes to one-way wooden pallets, they seem to mislead us, particularly when more solutions are available. Wood, a precious resource, should be reserved for higher-value products like furniture, not squandered on disposable one-way wooden pallets.
It's a bleak picture, but it doesn't have to be this way. Not anymore.
Ultra heavy duty EUR1 pallet can carry static load up to 4.500 kg and it's perfect for one - way transport the load up to 1.500 kg.
Introducing KraftPal Corrugated Cardboard Pallet
A bright new day in pallet technology has arrived, and it's thanks to the KraftPal Corrugated Cardboard Pallet. KraftPal is the 21st Century pallet that helps save the environment while saving you money. This innovation is aligning the pallet industry with modern advances in material handling and logistics.
Why is the KraftPal Pallet the perfect solution for one-way use?
80% less carbon footprint per pallet: The decreased weight of the pallets results in substantial savings in fuel and transportation costs. It also contributes to a significant reduction, up to 80%, in your carbon footprint for each pallet. Additionally, due to the ease of handling and maneuvering, the risk of injuries is substantially minimised.
Recyclability: Being 100% corrugated, these pallets go straight into the recycling bin after a single use. What does that mean exactly? You can minimize the use of resources in packaging, encourage recycling and reuse, and reduce Greenhouse Warming Potential through cutting CO2-equivalent emissions.
Hygienic and Strong: Not only are they 100% hygienic, but they're also moisture-resistant and provide 80% better shock absorbency than wooden pallets. The X-patent design is engineered to support a static weight of up to 4,500 kg and can transport a dynamic load weighing up to 1,500 kg.
High Tech Production and Quality: To create world`s premier automated pallet manufacturing system, the Palletonator, we employ cutting-edge protocols in industry 4.0. As a result KraftPal can efficiently produce top-tier pallets on a global scale, ensuring all adhere to the highest possible level of pallet quality standards.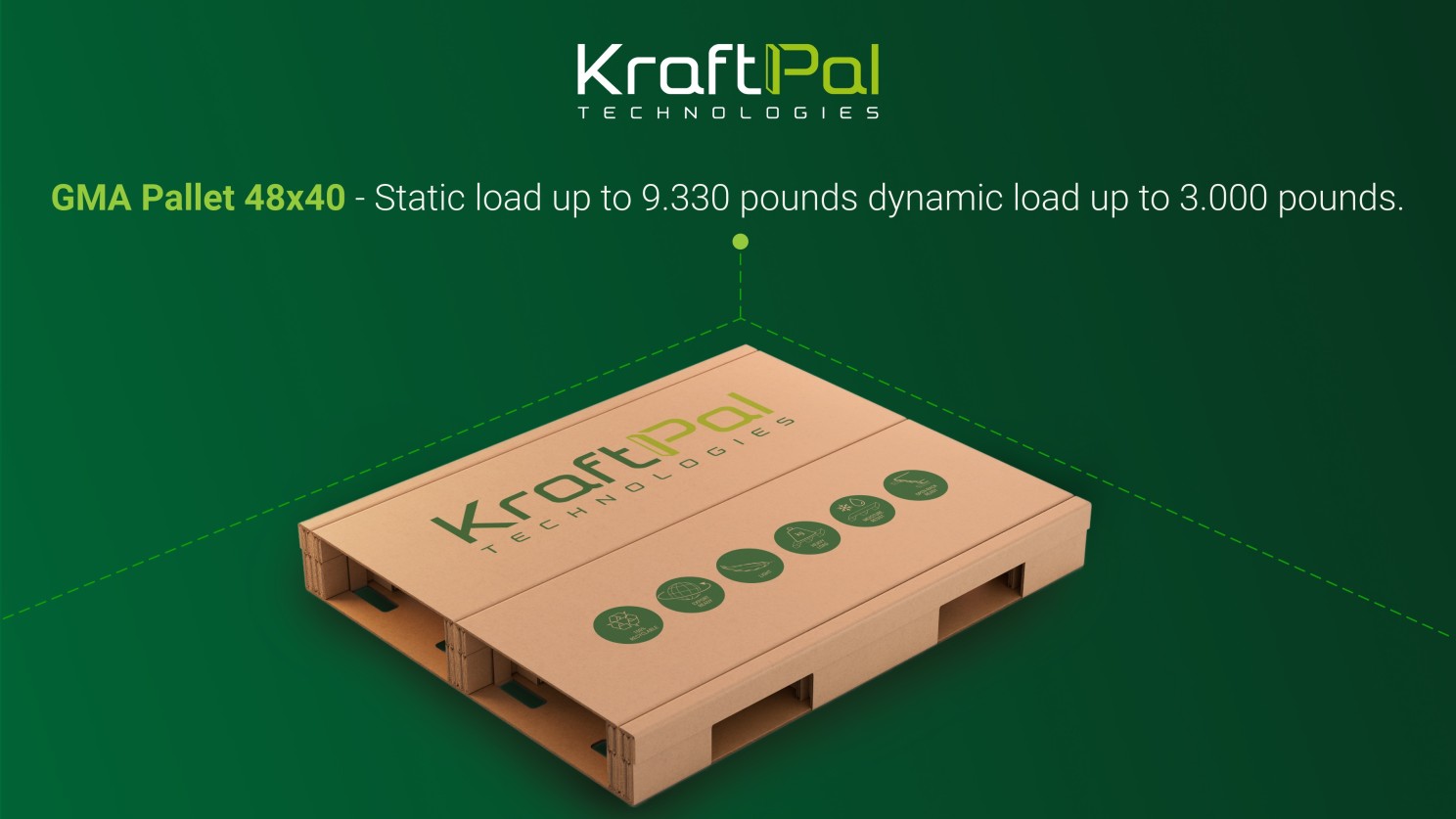 GMA Pallet 48x40 can carry up the load up to 9930 static pounds which makes it perfect for one-way transportation of goods up to 3000 pounds.
The Future of Pallets Today, Tomorrow and in The Next Decade
With the biggest capital raise in pallet manufacturing history, KraftPal aims to build dozens fully operational Palletonators in next few years all across the globe. The customization in production allows KraftPal to meet any customer's specific needs.
Transitioning from conventional wooden pallets to KraftPal Corrugated Pallets can be a seamless process, given the right circumstances. In most cases, there's no need for new equipment, special training, or any operational slowdowns. The sustainable future of pallets is here, and you can adopt it right now.
Remember, you won't have to navigate the entire process by yourself. Our team of experts will be there to guide you, helping you overcome every hurdle. Rest assured, our expertise guarantees solutions for every concern you might have.
Conclusion
As pioneering force KraftPal Corrugated Pallets represent a significant leap forward, reflecting the advanced state of today's material handling and logistics industry. Jumping on a train was never better to adapt a friendly, efficient, and modern pallet system. Currently we have local production units in Austria, Finland, and Saudi Arabia. We are currently building new facility in USA which should be operated in 2024.
The Palletonator is engineered to fabricate corrugated cardboard pallets in a matter of seconds utilizing advanced automation technology.
The future arrives on a KraftPal pallets.
Don't be left behind.
Join the modern revolution in material handling and logistics by making the switch to KraftPal Pallets today. For more information, visit our website at www.kraftpal.com, or reach out to us via email at sales@kraftpal.com.
Your future in efficient and #sustainable #logistics awaits!