Ever since Etivera ships hundreds of packages a day to small and medium-sized businesses, they were looking for a lightweight solution that would provide them and their customers with hassle-free handling and easy, responsible disposal. But those weren't the only benefits Etivera and its customers gained by switching from wooden to cardboard pallets.
Overview
| | |
| --- | --- |
| Company | Etivera Verpackungstechnik GmbH |
| Location | St. Margarethen/R., Austria, EU |
| Client since | 2020 |
| Pallet Models | EUR6 MD, EUR1 ULD |
| Annual intake | 10.000 – 30.000 pallets |
| Served by | Kraftpal GmbH (Austria) |
About Etivera
ETIVERA Verpackungstechnik GmbH is a quality supplier of packaging solutions for food and gift articles with its own production facility for self-adhesive labels. From its state-of-the-art warehouse stocking more than 1.000 unique products, Etivera serves the market ranging from local food manufacturers to international companies across Central Europe.
Pallet use
Etivera uses lightweight EUR6 MD and EUR1 ULD pallet models to distribute their medium-sized orders to the local and international market. A common order delivered on Kraftpal pallet consists of 2 or more boxes of single or various items, usually together with other non-packaged items.
Ing. Peter Kulmer, Etivera CEO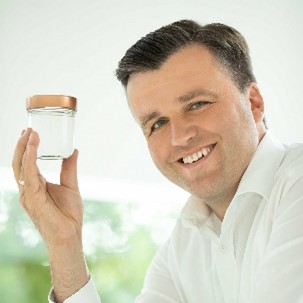 When we saw the Kraftpal pallets, we immediately recognized the value of the cardboard pallet, and I am happy to say that after we introduced the pallets to our warehouse staff, they too were thrilled because they are so light and easy to handle compared to the wooden pallets they were using before. Kraftpal pallets have also been very well received by our customers because they no longer have to deal with the disposal of wooden pallets. Another important aspect that we appreciate is the cleanliness of the Kraftpal pallet. In contrast to the wooden pallets, the cardboard pallets cause approximately 15-20% less abrasion, which prevents the operational area from being soiled. Kraftpal pallets can be 100% recycled. This enables easy disposal in normal wastepaper channels.